Founded in the 1800's Salisbury farm has been owned and operated by five generations of the Salisbury Family. The founder, Squire Williams Salisbury, began the farm as a hay farm with some dairy interests. Salisbury Farm was, at that time, a supplier of a nearby stage coach stop.
After Squire Williams, his son George took over operations. Somewhere between George Salisbury and Leroy Salisbury, Salisbury Farm became a full time dairy farm.
Salisbury farm remained a dairy farm until the mid 1970's when Roger Salisbury handed over operations of the farm to his son and current operator Wayne Salisbury. At the time Wayne Salisbury, a high school teacher, did not live on the farm and could not care for the 60 milking cows on the farm so they were sold off and Salisbury farm once again became a hay farm.
In 1982 Stephen Salisbury, then a member of the Scituate High School FFA (Future Farmers of America), decided to plant 500 strawberry plants (with the help of his father and family) for a school project. The project was a success. This year Salisbury farm planted approximately 12,000 new strawberry plants, and does so annually.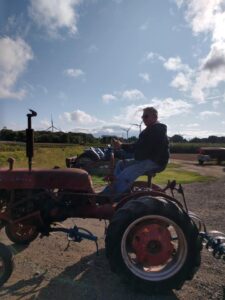 Since that time Wayne Salisbury has expanded the operations of the farm to become the farm as you see it today. Salisbury farm now offers hay, pumpkins, corn, raspberries, mums, and seasonal decorations, as well as strawberries.
In 1998 Stephen Salisbury had another project on his mind. The results can be seen on the corn maze page.  Stephen's brother Keith joined the effort by helping with the maze construction and developing the farm's website. Each year since, the brothers have constructed our farm's largest attraction.
Wayne Salisbury is the fifth generation to own and operate Salisbury Farm. His sons and their children will be sure to see the farm through it's sixth and seventh generation, and beyond.
Thanks for stopping by. We would like to extend an invitation to you and all of your family and friends to stop by our farm and sample first hand some of its rich history.